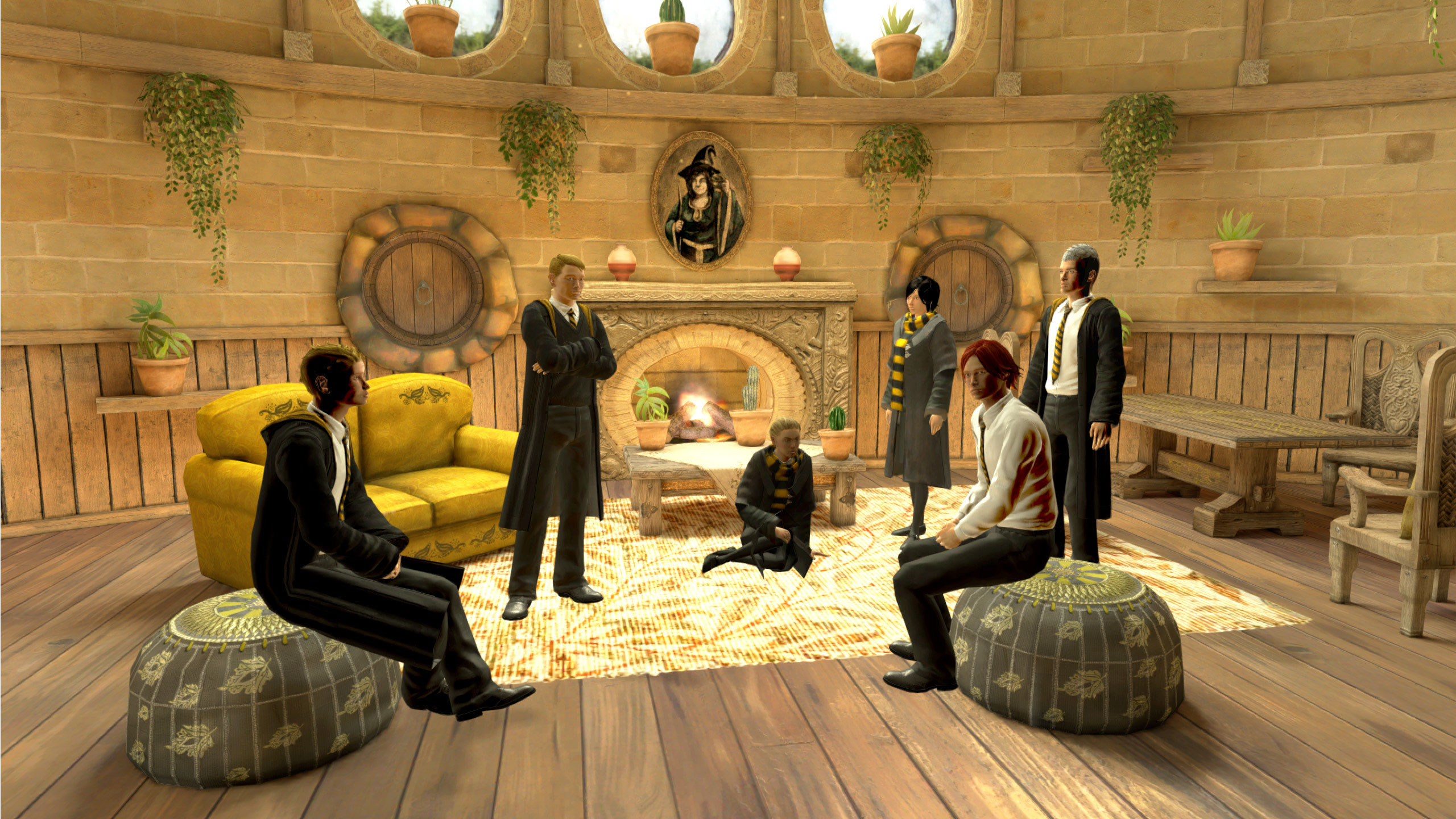 *Hufflepuff is a less-well known house from the Harry Potter book and movie series; I think of them as the average wizards, not the National Honor Society wizards. The picture of the Hufflepuff common room is from Playstation by way of Pinterest.
I am the perfect example of fakery.  I think of myself as a sort of middling wizard in the Harry Potter saga who has never had the guts to stop trying to pass as a Muggle because, while Muggles are clueless, my fellow wizards are unwilling to cut me slack.
Because I have certain skills at communicating in writing, other people expect that I should be able to put my thoughts together and spit them out of my mouth quickly in a coherent, consistent, compelling way, perfectly edited, not hard to follow, and never unwittingly offensive.
I have no such ability in any social situation where I am called on to do more than make a very superficial comment about anything. I never have.
My sister, who is so verbally competent that she is the only wizard ever to be sorted for both Gryffindor and Ravenclaw, declared a couple of years ago, "You are exhausting." Yes, waiting for me to answer a "simple" question, make a point, come to a conclusion . . . really, it exhausts *me* to try to find, streamline, and deliver an appropriate response out of the landfill of my brain.
If the right brain is the gas pedal on the backhoe of thought, and the left brain is the brake pedal, for me the gas pedal is almost always to the floor, and the brake pedal works only intermittently.  It is nearly impossible for me to scoop up any mental material with efficiency and precision.
It has always been this way. Always.
In science class, in seventh grade, I learned very well that the way I think and speak is not appropriate in most social settings.
The teacher had a prism and showed us how what we perceive as white light is actually made up of different colors, different wavelengths of light combined. When we see white objects, we see all the wavelengths of light reflected from that object. When we see an object of a certain color, such as a red apple, we are seeing only certain wavelengths of light.
I impulsively shot up my hand and was called on. I said, "That takes away all the magic [of color]!" (Said before I came to understand that magic is simply science that has not been correctly articulated yet.)
I basically responded to information the way I would have at home, in the safety of my neurodiverse family.
However, when my fellow students heard my comment, the whole crowd guffawed. The teacher rolled her eyes.
Score another one for the kid who, from first grade, collected many, many report card comments: "Does not pay attention" and "does not work up to potential."
Since then, I have learned a lot about putting on a façade of some kind of vaguely snotty superiority–intellectual or creative or whatever–in order to keep that kind of ridicule at bay.
The reality is that we are all gifted and interesting and not ordinary in some way, and we all hide it or dumb it down or whatever in order to fit into our social environment, in order to find acceptance, in order not to be alone and afraid.
But sometimes the natural human reaction to things that are unexpected sends a powerful message, "You are not just unexpected, you have no place or purpose whatsoever."
I spent most of junior high school and high school alone or with a very, very small number of people I thought I could trust, and I never got to know people who (I know now) would have made the best, most trustworthy friends . . . partly because of my overweening pride, and partly because I perceived there was no place in the public school environment of the day for someone with my verbal challenges.
(If I were in junior high today, I probably would have an IEP [Individualized Education Program] and therapy of some kind on a regular basis. Rather than be completely misunderstood by many, I would probably be understood to death by many and would have zero motivation to find ways to overcome misunderstanding through the best written communication possible.)
As it stands now, I will continue to exhaust, bewilder, and annoy.
Time has taught me that some people will always fidget and look at their watches when I am trying to get my words out in a straight line.
At this point in my existence, while my selfishness and cluelessness will *absolutely* always need to be measured against God's standards for human kindness (and his standard is always more generous than human standards), I will never abandon my desire to communicate clearly merely because it is inconvenient.
Someone will always think of me as exhausting and inconvenient.  Oh, well.
After sixty-plus years, I am not yet in a place to say, "That's okay," but I pray I will be one day before I die.